Motorsport Team Challenge 2020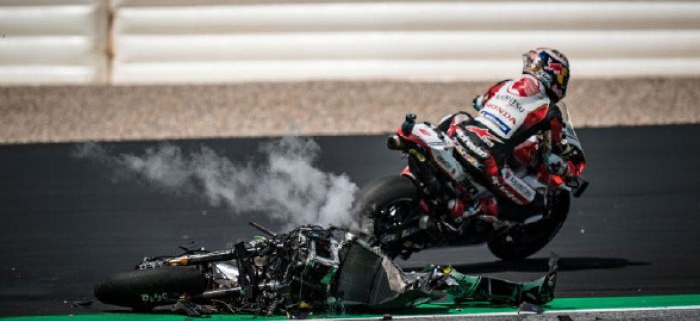 Due to constantly changing conditions, safety in motorsports is a great challenge and demands immense flexibility from the team. In 2020, we were facing something completely new: quarantines, antibody testing, and other health-related measures required the highest level of adaptability from everyone involved.
The 2020 Motorcycle World Championship only started in July with three events: Moto-GP Jerez 1/Moto-GP Jerez 2/SBK Jerez in southern Spain/Andalusia.
Covid tests and the Moto GP Covid app were a prerequisite for everyone involved. Access to the site was granted through the use of QR codes on the smartphone, and testing had to be repeated every week.
Extreme heat (asphalt temperatures of up to 62 °C) and difficult conditions, such as face masks and curfews, almost pushed the team to the limit.
After three hot weeks in Spain and more than 48 hours in the truck, the same procedure awaited us in Brünn/Brno. Tests, submitting the results, activating the QR code on our app, installing the air modules, stand-by during the entire training runs and racing, and then taking it down again.
Brno was followed by our two-week assignments on the RedBullRing, which can be described as extraordinary. Aborted races after spectacular accidents have once again demonstrated the risks on this high-speed track and challenged us enormously, as we had to replace the air modules multiple times after impacts. Finally, the races on the RedBullRing could also be finished successfully and without injuries. After six weeks "on tour", we got a well-deserved break before the SBK World Championship and Moto GP continued in Barcelona.
This post is also available in: German